Hey guys, we are back again with yet another exciting post for you, today we are going to tell you how to setup Google ChromeCast in simple five steps. Though Google ChromeCast got launched in 2013 but still there are plenty of new users who have not understood the setup process completely.
The process we are going to tell is very simple and would hardly take 10 minutes to complete, and after that you will be all up for casting. Let's check out the process.
Step No. 1: Simply Plug in the ChromeCast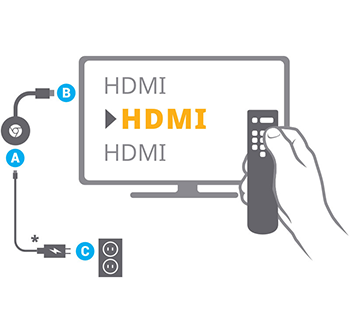 The easiest of step in the process is to physically inserting the ChromeCast into your TV. In case your HDMI port is not so comfortable to get in touch with, you can also use the specified HDMI extension which comes inside the box. Critically important you also need to give some power to your ChromeCast, so kindly plug in the micro USB cable or adapter, easy? Of course!
Step 2: Now Install Chrome
Apparently ChromeCast works on almost every mobile operating system (iOS, Android, etc.) but there are very few applications that actually support ChromeCast i.e., Netflix and YouTube in general. However, if you were thinking to browse your favorite videos and music from Spotify, Hulu Plus or HBO Go then you need to download and install Chrome Web browser for your PC here.
Step 3: Now Install the Google Cast extension
Before we move to this step, it is important to clear you that ChromeCast is a Google product whereas Google Cast is the extension service which allows you to access the features of ChromeCast. Clear? Ok so let's move on to the step which is simply downloading and installing the Google Cast extension for Chrome to enable beaming of content (videos, music)  from your Chrome web browser to your brand new ChromeCast. Take a note, installing Google Cast is only required if you want to access the videos and music from other applications which do not support ChromeCast like Hulu Plus, HBO Go etc, you can still cast videos from YouTube and Netflix without installing Google Cast on your PC.
To download and install the Google Cast extension for Chrome through the Chrome Web Store click here.
Step 4: Time to Install ChromeCast desktop/Android application
Now comes the trickiest step which is setting up your ChromeCast so that it can recognize your home network (WiFi). There are two ways to do this-
Download and install the official Chromecast application on your PC/Laptop here.
Or you can also download the Android app from Google Play Store here.
After doing that all you need to do is to wait for the application/Program to identify your ChromeCast device and once it recognizes, you can enter your WiFi password to connect ChromeCast to the network (internet).
Step 5: You are all set for casting!
Now your ChromeCast is connected to your home network, you can connect your mobile devices or PC to it and start enjoying your content on a go. Though there are only few apps which currently support ChromeCast but anyways it is a fun device to use. If you have any questions related to the process you can post it below in the comments. Till then enjoy your ChromeCast.
Guys if you liked our post kindly share it with your friends on Facebook, Twitter and Google Plus, for more updates on latest tech and tricks from around the world keep visiting our site. We have lots more interesting stuff for you in our kitty. Have a great day!